Joint Venture Agreement (JV)
Drafting a joint venture agreement can carry costly consequences if not done correctly. Violation of affiliation rules can cause companies to lose out on lucrative government contracts due to the complex regulations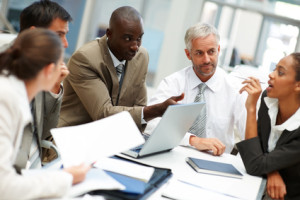 that regulate joint venture relationships. For example, businesses entering a JV arrangement often use standard templates that do no provide for the statutory requirements for populated arrangements. As a result, they lose out on several projects.
Watson & Associates government contract law attorneys  are frequently retained to draft, review and litigate challenges to adverse about joint venture agreements. Clients also work closely with our firm's small business lawyers to develop comprehensive strategies o forming partnership agreement relationships and educate them how to abide by the SBA regulations and how to avoid challenges to small business size protests.
Services
We offer a vast array of legal services to companies seeking to enter into JV arrangements. They include:
Drafting and review to determine qualified joint venturers;

Resolving legal disputes between partners;

Overcoming hurdles stemming from affiliation and the Ostensible Subcontractor Rule;

SBA 8(a) matters involving affiliation

Litigation and appeals of partnership agreements

Finding qualified JV partners
To speak to an experienced attorney, call 1-866-601-5518 for a Free Initial Consultation.
With law offices in Washington, DC and Colorado, the government contract lawyers at Watson & Associates, LLC  are geographically positioned and frequently help federal contractors in various industry groups to navigate through the nuances of venturing with other business.  The law firm brings over 30 years of experience in the government contracting industry.
Understand the rules before forming a joint venture agreement: Our lawyers help clients to understand the various nuances of mentor protégé and joint venture rules. This includes populated and unpopulated JV arrangement. We help clients to  litigate disputes regarding affiliation and compliance under the SBA rules and guideline.
Does your partnership agreement meet the legal definition of a Joint Venture Agreement? During the bidding phase for federal contractors, our attorneys frequently handle a variety of government contracting disputes where the ultimate issue is whether you meet the statutory requirements and prerequisites of the joint venture agreement definition.
Our attorneys help with language that protects the rights of JV members.

We make sure that your duties are clearly spelled out in your agreement.

Our attorneys help you to determine whether your agreement meets the legal exception to affiliation rules under the SBA regulations .
Litigate Affiliation Disputes  and Appeals of Joint Venture Decisions
When bidding on federal government contracts, small businesses may enter joint venture relationships to acquire larger contracts. However, whether you have SBA approval or not can sometimes change the legal analysis for affiliation in your case. Our attorneys litigate matters before the SBA Office of Hearings and Appeals and contract disputes before the Armed Services Board of Contract Appeals about JV agreements.
Under SBA Joint Venture regulations, there are some exceptions to affiliation. This includes operation under an approved Mentor Protégé agreement and others.
However, the general rule is that small businesses are automatically affiliated. At Watson, we help you to assess your case to see whether size standard compliance  under the Ostensible Subcontractor Rule is still in place and whether there is an impact on a pending award.
Call  our Government Contracts and Joint Venture Agreement Lawyers
If you are a small business seeking to draft viable and compliant Joint Venture agreements, call our lawyers at 1-866-601-5518 for a free initial consultation.