Government Contract Compliance & Management
Free Initial Consultation – Call 1-866-601-5518.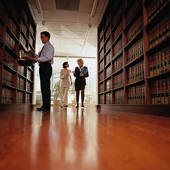 When it comes to federal government contract management and compliance, Watson &  Associates, LLC contract management compliance lawyers create cost-effective and concise results for
federal contractors. Whether you are facing an adverse action for non-compliance, need guidance on how to increase oversight , or are seeking legal advice on internal compliance, our contract lawyers are here to help.
The firms  federal government contract law attorneys assist small and large business leaders in developing and implementing sound contract management programs that are focused to avoid costly mistakes and suspension and debarment. Our team of federal contracting consultants and lawyers bring over three decades of procurement experience to the table.
Rely on Our Contract Management and Compliance Team to Assist You With…
Internal policies and controls, statutory guidance and compliance, legislative and policy advocacy
Understanding what federal agencies look for in your contract management process
Managing subcontractors through teaming agreements and complying with procurement policy
Making sure that your management and compliance are articulated in your proposal writing efforts
What You Can Expect from Watson & Associates?
With law offices in Washington, DC and Denver, Colorado, our contract management and compliance professionals are well-positioned to help domestic and international contractors to develop sound internal practices, respond to contract compliance audits and more. We bring a deep level of experience given our hands-on experience with working for federal contracting agencies. Take a look at our Blog for more important information.
If litigation arises, we are prepared to aggressively defend adverse actions in court. Our contract management and compliance practice areas run wide. We simply help our clients resolve problems from the beginning phase through contract close out.
We also help to:
Conduct frequent contract compliance audits;
Revamp and improve their contract management practices;
Write better internal ethics policies that comply with mandated requirements;
Mandatory disclosure and others;
Revamp existing contract compliance and management systems
Write internal contract administration policies and procedures
Perform internal audits to prevent suspension or debarments;
Provide government contract consulting services to uncover potential problem areas;
Conduct internal oversight audits for large and small business;
Advise on best practices that preserve your rights in the event of litigation.
Why You Should Choose Our Firm?
When you hire our Washington DC contract law attorneys, you are also getting over 30 years of industry experience. You are developing a relationship with procurement professionals that actually been on the other side in federal contracting agencies. Since we have worked on the other side, we are in a better position to advocate on your behalf. Read our Successful Outcomes to see what we mean.
Consulting for Large and Small Businesses
As a small business or large contractor, you may be considering outsourcing your government contract-management responsibilities. This reduces overhead while maintaining a high-level of compliance and oversight.
Our  lawyers and consultants are readily accessible on a daily basis to answer your questions and concerns. Get reliable advice when you are in an adverse situation. When disputes occur, prime contractors need a skilled legal team to handle complex and high-risk problems. Our federal procurement practice division advises and represents clients in matters such as:
Teaming agreements and joint venture relationships
SBA and small business matters
GSA contract matters
Contact Our Government Contract Management & Compliance Lawyers
To minimize risk and to maintain a sound relationship with federal agencies, contact the federal government contract management and compliance lawyers at Watson & Associates today. Call toll free at 1-866-601-5518 or 202.827-9750 in Washington DC.