SBA 8a Certification Consultants & Lawyers
CRITICAL THINKING, CLEAR DIRECTION, DECISIVE RESULTS
Over 30 Years Experience in Federal Small Business Programs. Call 1-866-601-5518 for a Free Consultation.
The 8a certification application process is not as simple as many applicants may things. There is an overwhelming amount of information that you must provide. Furthermore, 8a applicants may not understand the level of statutory and legal review the SBA conducts. As a result many applications are quickly rejected.  Complex analysis for social and economic disadvantaged status, net worth evaluations, and finding weaknesses in your business relationships, customer revenues can be a serious challenge for small business.
With law offices in Washington, DC and Colorado, the SBA 8a certification consultants at Watson & Associates, LLC provide high-level services for companies looking enter and succeed in the 8a Program.  When compared to merely a company that fills out your application, our lawyers actually litigate and appeal unlawful denials by the SBA. See some of our favorable results. You will:
Get the benefit of having lawyers and consultants that understand SBA 8a certification regulations;

Get a thorough review of your specific facts and circumstances;

Get valuable insight and how you can improve your chances of getting your 8a application approved by the SBA;

Use our valuable expertise after getting your 8a status to succeed in the program.

Flat Rate Available

Offices in Washington DC and Colorado.
This is why it is increasingly important to hire someone who is familiar with the 8a certification process and requirements. Bring your application and litigation or appeal concerns to Watson & Associates.
8a Certification Application Services
SBA 8a application denials and appeal rulings against 8a certification applicants are increasing. Watson's SBA 8a certification consulting team's experience is vast and deep. We help small, disadvantaged, and minority owned small business enterprises to navigate through the complex regulations and rules during the 8a application process. For quick and easy to understand 8a eligibility requirements.We help with matters related to:
Pre-SBA 8a Application Consulting Services
Net worth:

Showing you how to assess your net worth requirements;
Narratives: Assessing and providing guidance in developing compelling  social and economic narratives;

Waivers: 2 year waivers for 8a certification;

Corporate documentation: Providing legal advice and counseling on existing business relationships and corporate documents;

Checklist: Providing you with a checklist that helps you to comply with 8a Program certification and 8a status requirements;

Consulting on and preparing Requests for Reconsideration;

SBA 8a appeal for status denials to the Office of Hearings and Appeals;

Appealing adverse SBA 8a status decisions;

Affiliation and size determination appeals.
Post 8a Certification Consulting
After your 8a application is approved and you now have your 8a status, our consultants help with:
8a set aside government contracts;

Joint venture and teaming agreement concerns;

Appeal adverse 8a status decisions.

8a certification termination appeals; and

FAR compliance
DOWNLOAD YOUR FREE 8a APPLICATION CHECKLIST
Get Help With Narratives: Developing social and economic narratives is an essential part of getting your business 8a certified. To increase your chances of getting approved, there are specific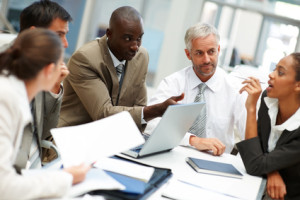 topics that you must discuss in your narrative. Most 8a applicants fail in this area. Our SBA program consultants and attorneys can help to reduce the possibility of disapproval. Compared to other 8a consulting services, we have hands-on experience litigation SBA application denials and understand the common mistakes made with social and economic narratives.
Assessment of Business Documents and Relationships: Another common pitfall with submitting your 8a certification application is improper business relationships and control issues. The SBA looks at your ability to control your business and also your relationships with other business entities and customers. Without understanding the various legal rules, 8a applicants often find themselves at the mercy of the SBA. Our 8a certification consultants can help you avoid these costly mistakes.
To speak to an 8a certification consultant or lawyer, call 1-866-601-5518 for a free initial consultation.
Visit our Blog to find additional information about getting your 8a status.
SIGN UP FOR OUR 8(a) APPLICATION PREPARATION CLASS OR ATTEND OUR CLASS ON HOW TO BE SUCCESSFUL IN THE 8(a)  PROGRAM
Nationwide Help Getting Your 8a Certification Status
Watson's SBA 8a application consultants can assist small disadvantaged business enterprises in any state for purposes of getting their 8a status. Federal law allows our 8a certification application consultants and attorneys to represent clients regardless of their resident status.
Call Our 8a Status Lawyers and SBA 8a Certification Consultants
For help getting your 8a status, call our SBA 8a certification consultants and attorneys at 1-866-601-5518 today.